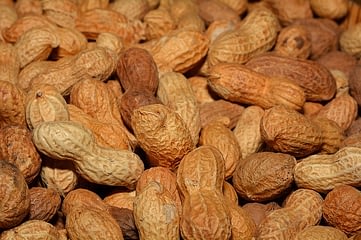 All You Need to Know About Peanut Allergy
by
Paul Harding
Peanut allergy is one of the top causes of severe allergy attacks, ranking among the most common food allergens being wheat, soy, peanut, tree nut, milk, egg, fish, and crustacean shellfish.
In the United States, these allergies are present in 0.6% of the nation's population.
In the Western world, it is the most common cause of death due to food-induced anaphylaxis.
What exactly is this kind of allergy, what causes it, and what are the symptoms to watch out for?
Definition
As its name suggests, it is a type of food allergy to peanuts which should not be confused with nut allergies.
The allergy occurs when a person's immune system identifies peanut proteins by mistake as something that's potentially harmful.
The body then exhibits hypersensitivity and releases chemicals into the bloodstream that ultimately manifest the symptoms.
Peanut vs Nut Allergy
Peanuts are actually not true nuts, rather a legume that belongs to the same family as lentils and peas.
It does have similarly structured proteins compared to tree nuts, thus people have this kind of allergy due to peanuts can likewise be allergic to tree nuts like almonds, cashews, walnuts, hazelnuts, Brazil nuts, macadamia nuts, pecans, and pistachios.
Symptoms
For some people who have an allergy to peanuts, even the tiniest amounts can potentially trigger a serious reaction.
A myriad of things can happen to the body and a person who has the condition may experience the following physical symptoms:
-itchiness
-urticaria
-swelling
-eczema
-sneezing
-asthma
-abdominal pain
-drop in blood pressure
-diarrhea
-cardiac arrest
Life-Threatening Reaction
Peanuts are among the most common allergy-causing foods which can trigger anaphylaxis, a life-threatening reaction which is regarded as a medical emergency.
Its signs and symptoms include:
-airway constriction
-throat swelling
-rapid pulse
-dizziness
-severe drop in blood pressure that can cause shock
-lightheadedness or fainting
When to See Your Doctor
It's a best practice to talk to your doctor upon discovering that you have any of the signs or symptoms of having an allergy to peanuts.
If you or your child recently experienced a mild allergic reaction when you consumed peanuts, know that it's not something that can be ignored.
Let your doctor be informed of this important matter, for there lies the risk of a having a more serious reaction in the future.
If you notice severe reactions such as difficulty breathing or dizziness you can't take, then it is a must that you seek emergency treatment.
Causes
The allergic response to peanuts typically takes place just within minutes after exposure, which can occur in various ways:
Direct contact – The most common trigger is eating peanuts or foods that contain peanut.
Direct skin contact can also result to an allergic reaction.
Cross-contact.
Peanuts can be unintentionally introduced into products, which is generally the outcome once food is exposed to peanuts during manufacture, processing, and handling.
Inhalation.
Peanut allergy can be triggered upon inhaling dust or aerosols which contain peanuts, which come from sources such as peanut oil cooking spray or peanut flour.
…
---